About Sagittarius (22nd November to 21st December)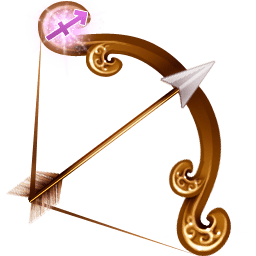 Symbol :
The Archer
Lucky Element :
Fire
Lucky Stone :
Amethyst and Topaz
Lucky Day :
Thursday
Lucky Numbers :
3, 9, 12, 21, 30
Lucky Color :
Red, Purple and Pink
Sagittarius is Compatible with :
Aries, Leo, Aquarius, Libra, Gemini
Sagittarius, represented by "the Archer" is the ninth sign of the Zodiac and is governed by planet Jupiter. This Zodiac sign is called "Dhanush Rashi" according to Indian or Vedic astrology. A person who is born during the Sagittarius birth phase is normally very philosophical, optimists and positive, has a flair for expansion and growth, have good farsightedness, have a great attitude towards work and colleagues, very direct in communication, idealistic in nature, sometimes proud of their achievements, can be very restless at times, freedom-loving. People born during the Sagittarius birth phase are called Sagittarians . Sagittarians have a very strong personality, and are very rational in their outlook and rarely get swayed away by emotions.
These people are often very religious and have a high sense of morality and are very down to earth. They have a good imagination power which enables them to initiate new projects and processes. These people are often very romantic and are straightforward in expressing their love to their partners. These people cannot be easily influenced by pomp and glamour and they don't dream big. Sagittarians have a low compatibility with Cancer,Virgo and Taurus. These people tend to suffer from ailments of hips, skins, thighs and hair. They may suffer from rheumatism or sciatica.
Sagittarians are optimists in nature and hence they are good motivators and don't tend to let the team morale down when things go wrong. These people have good farsightedness and hence this ability could help plan things properly without taking much risk. These people can be extravagant at times and hence there is a risk of wasting time and ideologies in fruitless pursuits Scorpians tend to be good pilots, drivers, spokesperson, priests, politicians. Sagittarians rules the ninth house of the horoscope and the corresponding card in Tarot is that of the "Temperance".
Copyright © 2019 EzineAstrology. All Rights Reserved