About Gemini (21st May to 21st June)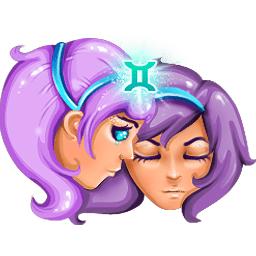 Symbol :
The Twins
Lucky Element :
Air
Lucky Stone :
Topaz and Emerald.
Lucky Day :
Wednesday
Lucky Numbers :
3, 5, 7, 14, 23, 32, 41 and 50
Lucky Color :
Orange, Lemon and Yellow
Gemini is Compatible with :
Libra, Capricorn, Aquarius
Gemini, represented by "the twins" is the third sign of the Zodiac and is governed by Mercury. This Zodiac sign is called "Mithuna" according to Indian or Vedic astrology. A person who is born during the Gemini birth phase is normally very good in communication, fluent while speaking, a bit impatient at times, agile and an exponent of dexterity, impertinent, irreverence, adaptable, fickle and inconsistent, belligerence, superficial, two faced, obnoxious, inquisitive in nature, hyperactive, flirtatious, intelligent, naive, industrious, festive, moody, may be bipolar, versatile, anxious, restless at times. People born during the Gemini birth phase are called Geminian. Since Geminians are good at communication, they normally bring in a fresh air of joy and liveliness in any situation, very clever with words and expressions. They don't like tom follow rules and regulations or routines. Geminians are not very disciplined in their private life.
Although Geminians don't like to follow rules, they can make tough situations light with their sense of humour and charisma. They are very flexible with their ego and can adapt easily to changing environment. Geminians have a low compatibility with Virgo, Taurus, Cancer. Geminians make good managers, salesperson, PR executives, customer support executives. Geminians can be prone to gastrointestinal problems, ailments of heart and nervous system.
These people are very good with maintaining relationships and are very rational in nature. Geminians are very imaginative and tend to be good writers and singers. Geminians are governed by whims and desires and lack self-discipline, however they tend to be one of the most talented people on earth. Gemini rules the third house of the Horoscope and its corresponding card in Tarot is that of "Two of Cups".
Copyright © 2019 EzineAstrology. All Rights Reserved