About Aquarius (21st January to 18th February )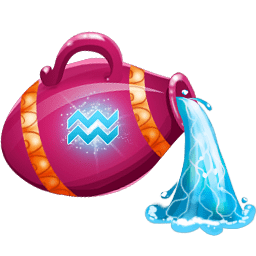 Symbol :
The Water Carrier
Lucky Element :
Air
Lucky Stone :
Opal and Aquamarine
Lucky Day :
Thursday
Lucky Numbers :
4, 7, 8, 13, 17, 22 and 26
Lucky Color :
Blue, Frey and Black.
Aquarius is Compatible with :
Leo, Virgo, Taurus and Capricorn.
Aquarius, represented by "the Water Carrier" is the eleventh sign of the Zodiac and is governed by planet Saturn. This Zodiac sign is called "Kumbha Rashi" according to Indian or Vedic astrology. A person who is born during the Aquarius birth phase is normally Witty, Clever, Humanitarian, Inventive, very much Original with their thoughts and ideas ,can be stubborn, sarcastic and aloof at times, very much individualistic and progressive, unique and independent, visionary and perceptive, intellectual but very logical, unpredictable and friendly .People born during the Aquarius birth phase are called Aquarians . Aquarians have a very strong personality and have a strong will power. Their hard working attitude plus their imaginative mind makes them good inventor.
Aquarians possess attractive personality and a strong character and normally tends to be good team players. They are intelligent, clear and concise with their communications and hence avoids misunderstanding. Aquarians have a low compatibility with Pisces, Gemini, Sagittarius and Aries. These people tend to suffer from ailments of blood circulation, heart, brain, may be prone to depression and anxiety, nervous complaints and join aches.
These people tend to be good musicians, good leaders and administrators, teachers, researchers, frequently take part in drama and performing arts. Since these people are individualistic in nature, they don't prefer to follow the crowd and rather loves to be trend setters. The same individualistic nature can make them rude at times. Aquarians are very faithful partners and ready to sacrifice everything for their partners. Aquarians rules the eleventh house of the horoscope and the corresponding card in Tarot is that of the "King of Swords" .
Copyright © 2019 EzineAstrology. All Rights Reserved