About Capricorn (22nd December to 20th January )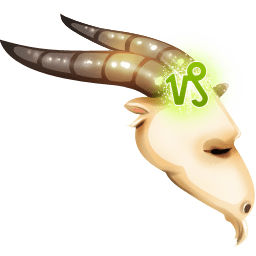 Symbol :
The Seagoat
Lucky Element :
Earth
Lucky Stone :
Amethyst and Topaz
Lucky Day :
Thursday
Lucky Numbers :
1, 3, 4,7, 8, 10, 13, 17, 19, 22 and 26
Lucky Color :
Brown, Steel and Black.
Capricorn is Compatible with :
Gemini, Taurus and Virgo
Capricorn, represented by "the Seagoat" is the tenth sign of the Zodiac and is governed by planet Saturn. This Zodiac sign is called "Makara Rashi" according to Indian or Vedic astrology. A person who is born during the Capricorn birth phase is normally old fashioned and like things to continue the old way, unconventional and frugal, traditional and don't prefer change to old ways of doing things, conservative, diplomatic, rational and logical, humorous, ambitious, stern, disciplined, practical, wise, hardworking, tenacious, , unforgiving, pessimistic and need motivation from others to get going, flexible, sarcastic but witty, .People born during the Capricorn birth phase are called Capricorians . Capricorians have a very strong personality and have a strong will power. Their hardworking attitude get things done at any cost.
Capricorians are very security-conscious and hence tend to be thrifty to save for the future even if there is no apparent threat in sight. They are very fair and demanding and expect people to stand up to their expectations all the time. They leave no stone unturned to get their things done. They are very sincere and believe in taking themselves to the limits.
Capricorians have a low compatibility with Aries, Leo, Sagittarius, Gemini, Libra, Aquarius. These people tend to suffer from ailments of hips, skins, thighs and hair. They may suffer from rheumatism or sciatica. These people are not great with personal relationships and often find it hard to maintain sensitive relations for which their personal life suffers to certain extent. Capricorn rules the tenth house of the horoscope and the corresponding tarot card is " Queen of Pentacles".
Copyright © 2019 EzineAstrology. All Rights Reserved