Cancer 2019 Horoscope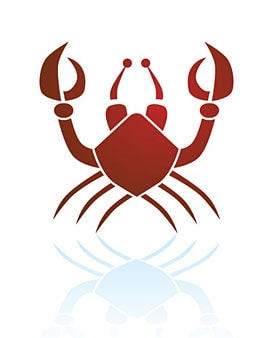 Love:
This year will be highly memorable for you in case of romance as the planet Mars is likely to rule your romance. If you are seeking the approval of your family for your relationship, this year will bring consensus and joy. There is good news for Cancerians who are recovering from a break up or are seeking love in their lives. There is a high probability of finding love and starting new relationships in 2019. You will constantly see an improvement in your love and relationships when you try and mend issues very practically. You will receive good support from your partner in both personal and professional. You prefer relationships where trust and belief between you and your partner are strong. Make sure you listen to your partner`s point and respect their opinion. You must be cautious by July as there are chances of extramarital affair for the married Cancer people.
Career:
This year is an exciting year regarding the career for the Cancer. You can expect lots of opportunities to come to your way. A promotion might be awaiting you or you might finally get a chance to go abroad. Growth and expansion is promised for business firms this year. This year is going to bring tremendous change for all working people. If you are interested to change your job then you must do it in the month of September and October as it will be the best time for you. You are advised not to get indulge in conflicts or arguments with the higher people in the organization. This could lead you into messy situations. Until and unless you find a new job do not leave the previous one as you may face financial problems. You must be cautious with all your decisions if you want to get high level of success. You must use your creative skills to the maximum to surge ahead in your career in 2019.
Finance:
In case of finance, you will have both positive and negative elements this year. You will witness a numerous number of ups and downs in this period. The planet Sun will be responsible for your financial fortune. In the first half of the year you will have a lot of money fluctuations, and you will simply have to ride with the tide for a while. Do not get afraid as you will have positive fortune so all the things are likely to be stable. You should not depend completely on loans for your requirements, try to cut down on your expenses and get some funds from your own sources. In September you may expect a financial loss and you do not need to take stress as it is beyond your control. However, by the end of the year you will notice a financial gain and this could be from an investment which you were not at all confident about. You must avoid any kind of big investment but invest in long term.
Health:
In the beginning of the year you must stay alert regarding your health. Your busy schedule and excessive workload will obviously have a negative effect on your health. You must avoid mental stress. You may have to frequently travel long distances for professional purposes and it is likely to affect your health. You must keep a provision for small vacation in between your schedule so that you are able to relax or refresh yourself. You can even start your day with long walks around the neighbourhood if you can. You are a natural homebody, so sticking close to home this year will keep your stress levels down, which in turn is the healthiest thing to do.by the end of the year you might face health problems. Work or office stress might bring a lot of anxiety in you. You need to stay calm and focus on your work. You are advised not to focus on the problems neither at home nor in office.
Remedy:
You must worship Lord Hanuman daily and donate white material on Monday.
Copyright © 2019 EzineAstrology. All Rights Reserved